---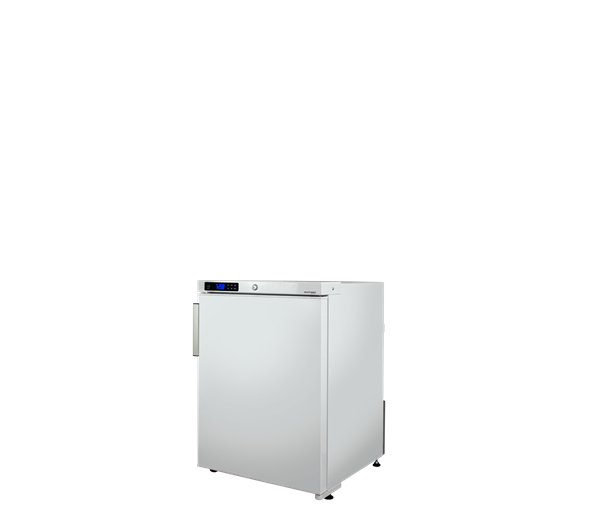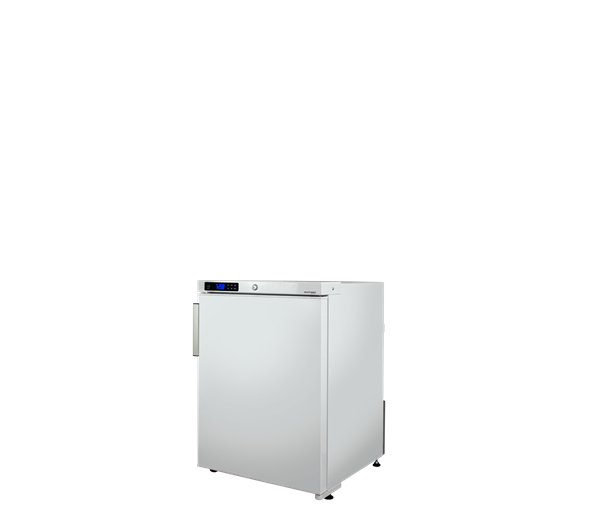 R-138
Premium Biomedical +2°C to +20°C Refrigerator
The new undercounter refrigerator is great for storing medicine or samples. Suitable under your work bench, it features 138L of safe and reliable storage formedicine and samples. This makes it great for customers in need of decentralized or dedicated storage. Equipped with our ETR-system™ (Extended temperature Range) this model can easily be used for multiple purposes i.e. storage of chilled medicine, room temperature medicine or breast milk. Fitted with acustic and visual alarms, a dry contact and logging and extraction of data, you can rest assured that whatever the content, it is safely stored.
The product utilizes smart technology to lessen the energy input without compromising quality.

Download datasheet
Thank you for your interest. We have sent you a confirmation mail.
Specifications
| | |
| --- | --- |
| Dimension | 857x595x642 HxWxD mm |
| Dimension inner | 676x475x495 HxWxD mm |
| Weight | 59 / 48 gross/net |
| Package weight | 11 kg |
| Material inner cabinet | ABS Kg. gross/net |
| Material outer cabinet | Painted steel Kg. gross/net |
| Insulation type | Polyurethane with cyclopentane |
| Insulation thickness | 50 mm |
| Type of packaging | Cardboard, EPS, Vinyl bag, Wooden pallet |
| Mobility | 4 x Adjustable feet |
| | |
| --- | --- |
| Volume | 138 / 117 Gross/net |
| Shelves | 2 |
| Half shelf | 1 |
| | |
| --- | --- |
| Safety thermostat | Optional |
| Lock | |
| LED light | |
| Battery backup | Optional |
| Porthole | |
| Porthole size | 20 mm |
| Dry contact | |
| Reference bottle | |
| Door closure | |
| Door reversibility | |
| Automatic hold 90° | |
| | |
| --- | --- |
| High / Low temperature | |
| Open door | |
| Power failure | |
| Probe failure | |
| | |
| --- | --- |
| Voltage | 220-240 V |
| Frequence | 50 Hz |
| Max ambient | 35 °C |
| Max Humidity | 75 % |
| Test condition | 20 °C |
| | |
| --- | --- |
| Temperature range | +2 to +20 °C |
| Unifromity in performance | 0,9 / -0,7 °C |
| Pull dowm time (from test condition to fabric setpoint) | 57 Minutes |
| Hold over time (from fabric SP to critical point) | 108 Minutes |
| Noise | 44 dB |
| Energy 24 hours | 0,4 kWh/24h |
| Instant Power Consumption | PD 0,085 / Stable 0,080 kW |
| Heat Rejection | 99 W |
| K-Value | 0,59 W/m^2k |
| | |
| --- | --- |
| Refrigerant/amount | R600a / 47g Type & gram |
| Number of compressors | 1 |
| Internal air distribution (Type) | Dynamic |
| Number of probes | 2 |
| Defrost | |
| | |
| --- | --- |
| Controller | Dixell |
| Controller type | XW737K |
| USB Connection | Yes |
| Data connection | MODBUS |
| Controller abilities | Logging of data & alarms |
| Controller languages | Digits |
| Log numbers | 35000 |
| Temperature graph in controller | |